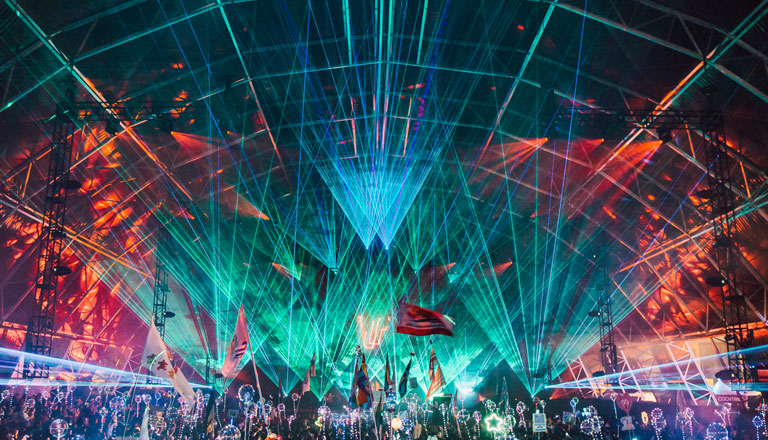 Queen Mary Guest Policies
Note: This is applicable to guests staying aboard The Queen Mary. A separate set of lists applies to the festival, linked here. Guests are subject to security searches between the hotel and festival grounds.
Essential Packing List
We highly recommend bringing the following items for the most comfortable hotel experience. Remember: It's only two nights! Roll your clothes, and pack lightly. 
YES Fun festival clothes 

YES Casual sleeping clothes or pajamas 

YES Phone charger 

YES Earplugs 

YES Reusable, official Insomniac water bottles (water refill station available on the Promenade Deck) 
Acceptable Items
YES Cell phones

YES Fanny packs

YES Food required for medical purposes and medically–indicated nutritional supplements

YES Food required for special dietary needs

YES Glowing/illuminated costumes or jewelry

YES Glow sticks (string glow stick/LED pois, orbitals and whips are permitted but must only be used in the festival grounds)

YES Gum (must be sealed at entry)

YES Hair straightener, curler or blow dryer 

YES Hula hoops (especially LED hoops!)

YES Hydration packs with no more than two main compartments and one smaller compartment—must be empty upon entry

YES Lip balm/gloss (must be sealed upon entry)

YES Makeup

YES Non-professional flash/still cameras and hand-held video cameras (e.g., Sony Action Cam, GoPro, Polaroids)

YES Plastic mirrors

YES Small snacks that do not require heating or refrigeration

YES Non-alcoholic beverages in factory sealed cans or plastic bottles

YES Sunscreen lotion (inspected upon entry)

YES Tampons and pads (must be sealed at entry)
Prohibited Items
NO Aerosol products/cans

NO Alcoholic beverages of any kind

NO Balloons or compressed gas tanks/cylinders

NO Candles or fire/flames of any kind

NO Corrosive or dangerous chemicals

NO Drones or remote-controlled aircraft

NO Drugs or drug paraphernalia

NO Fireworks

NO Gas masks

NO Glass containers (small cosmetics such as makeup or nail polish are allowed)

NO Hard-sided coolers

NO Hookahs

NO Illegal substances

NO Items that may be disruptive (e.g. laser pointers, slingshots, stink bombs, explosives of any kind, air horns, etc.)

NO Loose pills without a prescription, or expired medications of any kind (All medications, prescription or otherwise, must be in their original container)

NO Medical or recreational marijuana

NO Personal transportation devices (e.g. bicycles, scooters, rollerblades, skateboards, Segway, transporters, motorcycles, etc.)

NO Pets (except service animals)

NO Professional cameras and recording equipment

NO Soft-sided coolers larger than 8.5″ wide x 6″ high x 6″ deep 

NO Spray paint

NO Stickers, flyers

NO Unauthorized vending of food, beverages, or merchandise

NO Weapon or weapon accessories of any kind, real or fictional (including—without limitation—firearms, knives, billy clubs, brass knuckles, nunchucks, pepper spray, pocket knives, mace, stun guns, stars and other martial arts equipment)
Hotel Policies
A credit or debit card is required for an incidental hold of $100 per night, due at hotel check-in. Unused balance will be returned upon check-out.

The Queen Mary is a smoke-free hotel. Violators found smoking in their hotel rooms will be assessed a minimum fee of $250 and may be subject to removal from the property. This includes smokeless products such as e-cigs and vapes. Cigarettes (sealed at entry), e-cigs and vapes, and e-juice/pods are allowed to be stored in your hotel room, but are not permitted to be used anywhere within The Queen Mary. They may only be used in the festival grounds.

All hotel guests must have a Hotel wristband to access guest rooms. Don't lose your Hotel wristband, it cannot be replaced!

Please be considerate of other guests in the hotel, and limit occupancy to only guests registered to the room. If we receive a complaint you will be provided a courtesy warning. Should we receive a second complaint you will be asked to vacate the property and a minimum fee of $250 will be assessed to your hotel room.

Without the rumble of the ship's engines, sound does travel through our steel walls, so we ask you to please be courteous to guests in adjoining hotel rooms by being mindful of noise levels. Ear plugs are available at the front desk for your convenience.
Code of Conduct
Hotel guests are expected to be courteous to one another, as well as to hotel and event staff. The Queen Mary is a shared space, and these are your neighbors for the next few days! Please do your part in making this an incredible weekend for everyone. If a guest participating in any of the following behavior is uncooperative or a persistent offender, they will be removed from the hotel and festival site. In certain situations, the offender may be arrested.
By entering The Queen Mary, you agree to adhere to the following code of conduct:
All hotel guests and festival attendees must be 18 or older, verified by government-issued ID.

All hotel guests must have a festival ticket.

All hotel guests must wear their Hotel wristband (acquired at check-in).

Hotel guests consuming alcohol must be 21 or older, verified by valid photo ID, which may be randomly checked at any time.

All hotel guests must be packed and vacated from their hotel rooms by the designated check-out time of 11:00 AM on Sunday, November 19th.

Prohibited items confiscated at entry or during the event will NOT be returned. Please don't bring prohibited items!
The following actions may result in a WARNING and/or EJECTION from the hotel and festival site:
Irresponsible use of alcohol

Public nudity or lewd behavior

Accessing restricted areas without proper passes

Taunting, bullying, abusive/disruptive language, and/or obscene gestures

Littering

Failing to cooperate/comply with hotel or festival safety officers or security personnel
The following actions will result in IMMEDIATE EJECTION:
Relieving your bladder or bowels anywhere other than approved restrooms/porta-potties

Fighting or engaging in any action that may harm, endanger, threaten or bring discomfort to anyone

Public sexual behavior

Possession/use of illegal drugs

Damage, destruction, vandalism or theft of any property

Throwing or releasing anything overboard from the ship 
Accessibility Information (ADA)
Hearing and mobility accessible rooms are available. Please notify hotel staff upon check-in of any accessibility needs.