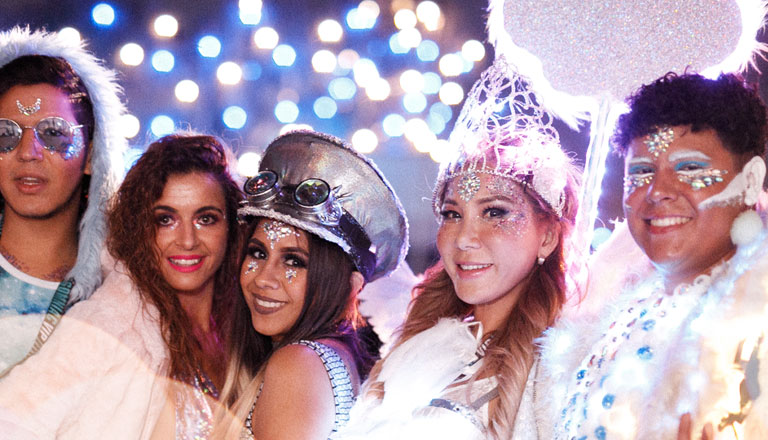 VIP
Take your festival weekend to the next level, and treat yourself to some unique perks! Recharge in our Dreamstate Lounge, with additional seating, high-top tables, lounge furniture, photo ops, and more!
To enter all VIP areas, you must be 21+ and present a valid photo ID—either a US driver's license/ID or a US/foreign passport. Learn more about Ages & ID. Avoid scalpers and scammers; purchase passes ONLY from the official Front Gate ticketing page. See our Ticketing FAQ for answers to your questions.
Features
Dreamstate VIP areas offer a completely elevated experience, including:
Access to The Dream VIP lounge & dance area
Dedicated dance areas at The Vision & The Sequence
Dedicated, expedited VIP festival entrance
Private VIP luxury restrooms
Complimentary wifi at The Dream
VIP Concierge: our dedicated team is available to answer questions about your VIP experience
Kandi bracelet making station
Complimentary glitter bar
Complimentary grab 'n' go festival essentials: earplugs, hair ties, band-aids, hand sanitizer & more!
VIP cash bars: specialty cocktails available
Gourmet food truck: vegan and vegetarian options
Rave Name Booth
Dreamstate Unity Wall: share a message of love
Water refill station at The Dream
Complimentary hookah bar
Dreamstate laminate & lanyard: pick up at VIP Concierge
Interactive Dreamstate VIP photo op
Complimentary phone charging stations
The Quantum Quest: visit the Concierge for more info!
Complimentary hot cocoa, coffee, & popcorn bar
VIP mobile charging lockers: 1- or 2-day rentals available
VIP upgrade options at the festival for all GA and GA+ ticket holders
2-Day VIP
Tier 1
$250
+ Fees & Taxes
Sold Out
Layaway amount is based on the current tier. Defaulted layaway plans are subject to a non-refundable fee.
Friday VIP
Tier 2
$169.99
+ Fees & Taxes
Saturday VIP
Tier 2
$169.99
+ Fees & Taxes
Gallery